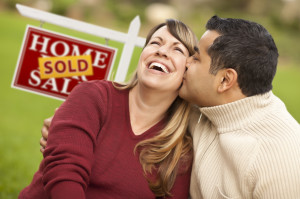 Many people thinking about selling a home, or buying one, are asking- "What's going on with the Riverside housing market?" If you have been reading the news, watching TV, or glancing at the numerous flyers that real estate agents have been peppering your front door with, you may be asking yourself the same question. Most home owners, or prospective home buyers are interested in two major factors: price and inventory.
Prices in Riverside are still going up, which is great news for home owners, thinking about selling a home. Inventory in our market, though it has been extremely limited in the past few months, is starting to level off- which could indicate an increase in inventory in the coming weeks, which is great news for people thinking about buying a home.
According to recent statistics released by realtor.com, March 2013 saw a 2.36 percent increase in homes being listed for sale when compared to February 2013. This brings more options back into the Riverside real estate market and giving you, as a Riverside home buyer more chances to find your home.
Although prices may be slightly higher (the national average reported by realtor.com shows a .05% increase in the last month), interest rates are still low, with the 30 year fixed averaging 3.43 % with .8 points on April 11th.
Riverside home owners thinking about selling a home, can be excited, too- knowing that their property is likely to be showcased during this time when inventory, though moving, is still low. Less home listings also make for quicker sales with eager buyers, and a key number, days on the market, has been reduced because of the above factors, as well. According to Steve Berkowitz, CEO of Move, Inc. "The newest data shows that the outlook is optimistic for the overall real estate recovery."
For a complimentary market analysis of your home, to see what your home is worth, or to find out what is going on in your specific neighborhood- give us a call! You're likely to find that now is the perfect time for you to buy or sell your Riverside home, and we would be happy to help!
For more information on Riverside real estate, the housing market, and homes for sale- contact Graham and The Home Team at (951)534-9296, or email us.