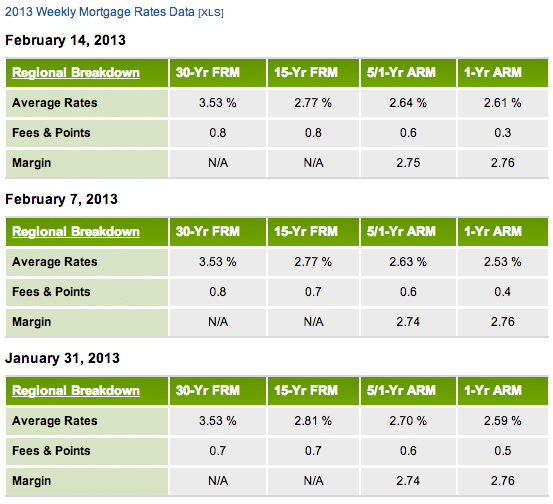 Your Riverside, CA home value is affected by many changes in the housing market, but one thing you don't have to wonder about this week is mortgage rates. It's been three weeks now and the 30-year fixed-rate mortgage (FRM) has held steady at 3.53 percent with less than a point, according to the Weekly Primary Mortgage Market Survey®. The 15-year FRM remained the same this week, as well with a 2.77 percent rate and average 0.8 point.
Freddie Mac Vice President and Chief Economist Frank Nothaft shared that "Mortgage rates remain near record lows and continue to support housing demand, translating into a pick-up in home prices in most markets."
Nothaft further stated that, "Among large metropolitan areas, 88 percent saw positive annual increases in the fourth quarter, compared to 81 percent in the third quarter and 75 percent in the second." Phoenix at 34 percent, Detroit at 31 percent and San Francisco at 28 percent showed the highest increases.
An article in The Press Enterprise by Debra Gruszecki, confirms that these increases are true in Riverside as well; stating that January's sales volume was the highest it's been since January of 2007. Median prices in the six counties that make up Southern California, have increased as well, by an incredible 23.5%, since January of 2012, Gruszecki said.
At 2.64 percent (.6 point) and 2.61 percent (.3 point), even Treasury rates seem to be pretty stable, too. The 5 year Treasury-indexed hybrid adjustable-rate mortgage (ARM) averaged 2.64 percent, down from a 2.84 last year. The 1-year Treasury-indexed ARM increased slightly to 2.61 percent but is still well below last year's average of 2.84 percent.
To check the rates each week for yourself and see other news that may impact your home, please visit Freddie Mac here.
For more information on the Riverside housing market, real estate, and homes for sale- contact Graham and The Home Team at (951)534-9296, or email us.