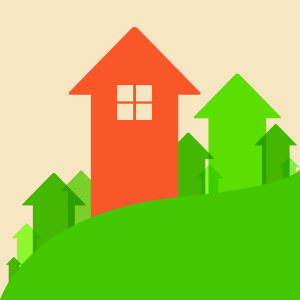 The National Association of Home Builders (NAHB) /First American Improving Markets Index (IMI) released this week lists 274 metro areas with improved housing markets. Riverside is the only city in the Inland Empire on that list, and our price trough (the lowest point, or most depressed stage of the cycle,) was on January 31st, 2012. Since then we have seen a dramatic, upward trend.
Improvement indicators include increased housing permits, employment and home prices over a six consecutive month period. Home owners living in the Riverside area are beginning to notice a shift in home prices and sales, leading to more interest regarding the value of their home.  In fact, the housing market in Riverside seems to be seeing a HUGE shift.
NAHB Chairman Rick Judson explained the good news, stating,"This is the second consecutive month in which every state is represented by at least one metro on the improving list."
NAHB Chief Economist David Crowe explained that the improving markets (over 75%) indicated a very "solid" market in many communities, though individual markets may have issues with recovery.
See the complete list of the 274 metropolitan areas currently on the IMI by viewing NAHB Improved Metros Near Your Home or click here to see a collection of recent NAHB reports, lists and charts.
If you are curious how this affects the value of your Riverside home, or the home prices in your neighborhood, we would be happy to provide you with a comparative market analysis. This report shows you the specific value of your home, and what trends are affecting your neighborhood market, right now. We provide this service for free, with "no strings attached." Making sure our neighbors are informed about the real estate market is our ultimate goal.
For more information on Riverside real estate, the housing market, and homes for sale- contact Graham and The Home Team at (951)534-9296, or email us.