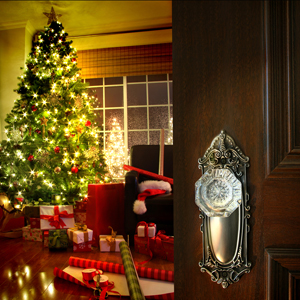 So you've decided- it's time to sell your home! But with the holidays around the corner you, like lots of homeowners, may be concerned about how the holiday season will affect your home sale. There is quite a bit of incorrect information floating around saying that the holidays are a bad time to list your home. We actually feel that the opposite is true.
Our clients have found great success listing, and selling their home during the holiday season, based on a couple key factors.
-Few people are willing to list their home this time of year, so the homes on the market enjoy more traffic, and generally multiple offers- sometimes over asking price.
-There are less buyers looking to buy during the holidays, which can mean less looky-loo traffic, and more serious buyers viewing your home. They are also generally more serious about buying right away, and less likely to play games and haggle over minor items. Homes that go into escrow during the holidays usually have a smaller chance of falling out of escrow because the buyer got cold feet.
-Homes decorated for the holidays are warm and inviting. It helps potential buyers see themselves living in your home, and celebrating next year with their family and friends.
-Leaving cookies on the counter, or warm apple cider on the stove feels just right this time of year! And it can be just the thing to woo a potential buyer into choosing your home.
Whether you decide to list your home during the holidays, or wait until after the first of the year, we are here with lots of tips and suggestions to help you highlight your home, to get you the most money possible for your sale. Give us a call, or shoot us an email if you would like more information about selling your home. We would love to help you make your next move!
For more information on Riverside real estate, the housing market, and homes for sale- contact Graham and The Home Team at (951) 534-9296, or email us.