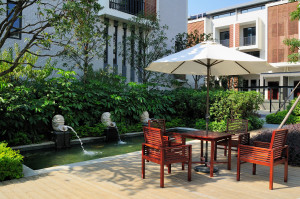 Spring is here! Which means it is time to enjoy that beautiful Riverside weather we look forward to this time of year! After the rain, and chill of the winter, and before we get to that long, hot Riverside summer- we get to enjoy the crisp air, blooming flowers, and warm clear days outdoors that make Southern California such an amazing place to live!
Chances are you will find yourself spending more time outside enjoying this new season and catching up with the pruning, trimming and gardening around your Riverside home.
You may have recently bought a home and have plans to create a playground in your backyard or outdoor kitchen, too.
Whatever your reason for stepping outside, you'll probably notice some areas you can improve around your Riverside home, before you begin a season of entertaining outdoors. As you look over your backyard or patio, take the time to notice the feelings you have in that space.
Is the yard of your home relaxing and inviting?
Your week is filled with the hustle-bustle of life, with time constraints, and demands placed upon you by others, shouldn't your evenings and weekends be a time of enjoyment and reflection?
If you agree that your home and its exterior space should be an oasis of sorts, start small and consider adding a fountain or fire pit to your landscaping to make your yard more retreat-like. Perhaps a backyard swing or an outdoor kitchen is more to your liking. Gather your dreams in online ideabooks on websites like Houzz or Zillow digs and plan out the next project for your home. Just thinking about it will make you smile.
**In the spirit of Spring- for our next Local Business Showcase, we will be interviewing Russ, the owner of Sunshine Growers, a local wholesale nursery, that offers just the thing to turn your backyard into a garden oasis. Stay tuned for the video!**
For more information on Riverside real estate, the housing market, and homes for sale- contact Graham and The Home Team at (951)534-9296, or email us.